UniveritÓ degli Studi di Siena
guest rooms
Rooms in the Villa
The double or twin guest rooms in the villa are the Certosa's most prestigious rooms. They all have a private bathroom and wonderful views of the Italian garden and the surrounding countryside. There are only five of these rooms, one of which also has a hall/living room.
Furnished with attention to detail, the rooms are particularly quiet and spacious. All have a television, phone and WI-FI access, but there is no mini bar or air conditioning.
Other rooms
The other rooms are furnished in a simple but functional style: they all have a bathroom with shower, a telephone and WI-FI access, but none of them has a mini bar or air conditioning.
These rooms can be found in three different parts of the Certosa: some at the entrance to the main cloister, some on the ground floor opposite the entrance to the dining room and the others above these, on the first floor.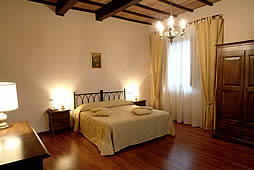 Double room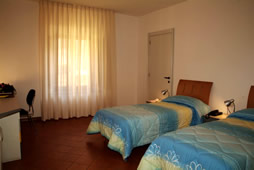 Twin room