UniveritÓ degli Studi di Siena
cloisters
Inside the Certosa...
From outside the Certosa, it is difficult to imagine the beauty and charm of the cloisters within.
The entrance next to the reception leads to the wide loggiasof the main cloister, around which are the entrances to the dining room, the guest rooms, the "villa" area and the two churches.
The "cell cloister" is larger, with slightly narrower loggias off which doors open into the former cells of enclosed monks, which have been renovated and transformed into apartments.
Both of the main cloisters have wells in their centres. There are also two small cloisters in the centre of the Certosa – one connecting the two main cloisters and another that is only visible from the rooms of the diocesan administration.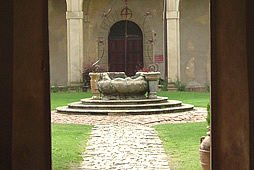 Main cloister, seen from the entrance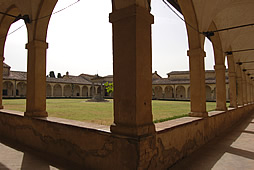 Second cloister